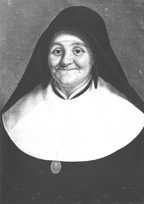 MERE JULIE
(Sœur Saint-Ignace)
Marie Rose Julie BILLIART
1805-1816

Animated by a great desire to make known the goodness of God, Julie founded the Congregation of the Sisters of Notre Dame on February 2, 1804, and she became the Superior General on October 15, 1805. She consecrated herself to the education of young girls, especially the most impoverished. She died at Namur April 8, 1816 and was canonized June 22, 1969.


MERE SAINT-JOSEPH
Françoise BLIN DE BOURDON
1816-1838

Co-foundress of the Congregation of the Sisters of Notre Dame, she was elected Superior General at the death of Mère Julie. One of her principal works was the development of the Rule for the Institute.


MERE IGNACE
Thérèse GOETHALS
1838-1842

Assistant to Mère Saint-Joseph, she saved the Institute from a schism in 1835. Mère Ignace sent the first sisters to Ohio in the United States in 1840.
MERE MARIE-THERESE
Marie-Thérèse VANDEPUTTE
1842-1843

Assistant to Mère Saint-Joseph before Mère Ignace, her motto was the same as that of Mère Saint-Joseph and Mère Ignace :  "one same end, one same spirit, one same heart".  She resigned on February 5, 1843 because of her health.
MERE CONSTANTINE
Marie-Jeanne Josèphe COLLIN
1843-1875

Superior General for 32 years, she sent many sisters to the United States: to Ohio, Oregon, Massachusetts and California. She opened a mission in England in 1845 and in Guatemala in 1859.


MERE ALOYSIE
Thérèse Josèphe MAINY
1875-1888

Mère Aloysie opened the canonization process for the two foundresses in 1881 and established several houses in Belgium, England and the United States.


MERE AIMEE DE JESUS
Elodie DULLAERT
1888-1907

For the first time, American delegates were present at the time of the election of the Superior General. Mère Aimée de Jésus opened houses in Congo and in Scotland in 1894 and in Rhodesia in 1899. She learned of the Beatification of Mère Julie on May 13, 1906.